"His spoken word/live sampled music shows are hilarious and politically powerful."
- Stylus Magazine, Winnipeg
"A ubiquitous musical prankster."
- The Montreal Gazette
"A madcap Montreal artist-anarchist...There's no stopping Nawrocki! And who'd want to?"
- The Toronto Star
"Nawrocki isn't out of touch with the world. If anything, he's more in touch with what's really going on than most of us, and because of that, wants to change a few things. He uses any means at his very entertaining and creative disposal to get his messages across."
- Uptown, Winnipeg
"A born showman who never lets his audiences pass a dull evening...his shows don't disappoint."
- The Globe & Mail
"Montreal's most exuberant anarchist has put (a series of letters that his uncle wrote to his father during the Nazi occupation of Poland) to the music of his violin & a series of delay pedals. The result is a touching & often haunting narrative of Nazi totalitarianism from a first-person perspective. Nawrocki is utterly inspiring as he captivates the audience with his jovial voice, playful violin and stories of anarchist resistance. His act can be described as interactive trance-folk with elegance, humour & emotion."
- The McGill Daily, Montreal
"Radical politics rarely translate to nuanced poetry, but Nawrocki grasps that they're easier to push with charm than with harm. As for the music, that's a hole in one. Nawrocki's pulsating blacklight Gypsy pop harbours the subtlety often absent in his words."
- The Montreal MIRROR
Duck Work
Duck Work makes top 10 of 2004!

Jordan Zivitz, rock critic for Montreal's daily, The Gazette, cited 'Duck Work' as one of the top ten, local CDs from 2004, alongside releases from The Arcade Fire, The Dears, Sixtoo, etc.
'A career's worth of ideas, raging against the machine while veering from the alehouse to the dance floor. Staggeringly eclectic'
- The Montreal Gazette
'Nawrocki has crafted a stimulating concept record that wades through the dystopia of a world living in the wake of 9-11. He creates aural installation that, while completely listenable, still has something pertinent to say. 4/5
- FFWDWeekly, Calgary

'A mystic journey through a diverse selection of heavenly looped violins, warm percussion and insightful spoken word.There's never a dull moment on the disc.
- Urbnet

'Radical politics rarely translate to nuanced poetry, but Nawrocki grasps that they're easier to push with charm than with harm. As for the music, that's a hole in one. Nawrocki's pulsating blacklight Gypsy pop harbours the subtlety often absent in his words. An engaging, inventive musician'
- The Montreal MIRROR
Norman Nawrocki Strikes L'Aquila:
Norman Nawrocki live in Chicoutimi, Quebec:
Norman Nawrocki plays violin in Parc Oxygène:

"A ubiquitous musical prankster."
- The Montreal Gazette

"Heavenly looped violins, warm percussion and insightful spoken word."
- Urbnet

"Montreal's one-man 'creative resistance' generator… a prolific, radical music output."
- Mostly Water, Vancouver


BEATS, STRINGS & BRAINFOOD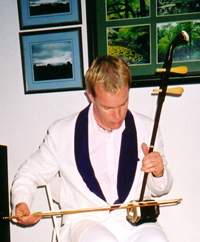 Norman Nawrocki is known internationally not only for his hilarious and raunchy relationship comedy cabarets, his radical 'community cabarets,' his books, bands, lectures and workshops, but also for his mesmerizing, topical and dynamic amplified violin performances.
He plays purely instrumental sets, or delivers theatrical poetry and short fiction excerpts (from his own books) with original compositions and on-the-spot improvisations. Rarely are his solo music shows predictable. He credits childhood classical violin training for helping turn him into a devout non-traditionalist.
On stage, Nawrocki will strum, bow, whack, tease, sample and loop his modified, treated, violin (or viola or cello), and occasionally mix in original beats or pre-recorded tracks to create rich, multi-layered, hypnotic, ambient soundscapes. He then plays live on top of these.
A sacrilegious violinist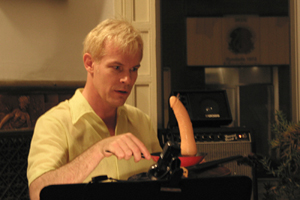 Continuing the musical adventure, he might transform his violin into a soundboard workbench, and exchange his regular bow for a modified bow or toys, kazoos, vibrating bass dildos, marbles, frying pans, brushes, spoons, knives, chopsticks, elastic bands, beer bottles or found objects. He'll run the resulting vibrations through his pedals, throw in a suitcase drumbeat, sing into his violin, or turn it into a percussion box.
A veteran of Montreal's indie 'underground' music scene since 1986, he can draw on an eclectic background of punk, worldbeat, Klezmer, rock, experimental jazz, theatrical circus, low-tech, or improv 'musique actuelle' to help shape and colour his sonic explorations.
He adds vocals to the music, delivering the tallest of tales, love advice, satirical political critiques, provocative poems, and forays into the dreamland of a new world where things could be radically different and better. He performs his texts in either English, French, Polish or Italian, depending on the location. When requested, he creates specific 'theme' or 'issue oriented' shows, cranking out new words and music for the occasion (e.g., a civil liberties fight, an environmental or labour issue, a combo birthday/graduation/free-of-Facebook /coming out party).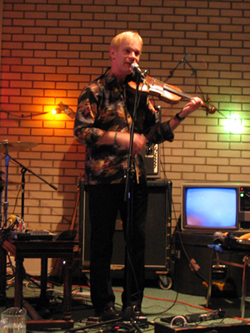 WEDDINGS, BIRTHS, DIVORCES
Proud of his East European roots, Nawrocki loves to play Canadian Ukrainian or Polish divorce music favorites. He also plays solo violin for weddings: normal or non-traditional Jewish, Ukrainian, Polish, Estonian, Italian, English straight or gay.
If audiences aren't already part of the on-stage action, he will often invite them to join in sing-alongs or drink-alongs, or contribute missing musical or rhythmic elements. An incorrigible cabaret artist and comic, Norman can't resist fiddling with the laugh meter. The result: a high energy, compelling combo of inventive, live music and engaging, theatrical spoken word, without the attitude.
He can be funny and offbeat, but always thought-provoking and generous. Nawrocki is described by Canada's national newspaper, The Globe & Mail as "a born showman who never lets his audiences pass a dull evening." •

In addition to the 50 albums he has released with his many bands (see DISCOGRAPHY), Norman has two solo CD albums of music and spoken word:




Track listing:
1. Letter 1 rabbits
2. Letter 2 fascists
3. Letter 3 doughnuts
4. Letter 4 dogs
5. Letter 5 what God?
6. Letter 6 the Tatras
7. Pologne
8. Lettre 1 Rapello
9. Lettre 2 Rawicz
10. Lettre 3 Poznan
11. Lettre 4 Opole
12. Lettre 5 Cracovie
13. Lettre 6 Zakopane
14. Franek's Poland

Catalogue #: LPN021C


Order from the catalogue.


'Letters from Poland'
CD, 45 min., Les Pages Noires


Norman's hauntingly beautiful, East European flavoured solo CD. He plays looped violin and viola, accordion, piano and a 142 string Ukrainian/Polish hammered dulcimer known as the tsymbaly. The 45 minute album contains spoken word versions of 12 historical letters (6 in English, 6 in French) from 1937 - 1995, extracted from his book, The Anarchist & The Devil Do Cabaret (Black Rose Books, 2003). The letters are from an eccentric Polish uncle to Norman's father, and are set to original music. There's also an accordion instrumental and a traditional Polish song sung by Norman's late father.

Alternately poignant, humourous, bittersweet and declamatory, the letters trace the love and longing of one brother for another, and document this man's growing resistance to the rise of Nazism before and during the second World War.

"Wow, I'm impressed! Listened to the album and I loved it. It made me think of the train album that Steve Reich did with regards to the trains taking inmates to Aushwitz....it touched me a lot. "
- Dan Behrman, Radio-Canada
Track Listing:
1. Pourquoi suis-je anarchiste? (6:03)
2. Mary Kelly (3:18)
3. The Empire Goes to War (4:14)
4. Butterflies (3:58)
5. Trumpet the Walls (5:38)
6. By What Right, America? (6:37)
7. Oui Monsieur (2:25)
8. CNN News (5:43)
9. The Real Terrorists (5:07)
10. A Modest Proposal (2:50)
11. Midnight Mass (3:43)
12. The Wind (1.04)
13. Why Am I An Anarchist? (5:29)
14. Duck Work (2:03)

TOTAL RUNNING TIME: 61 minutes
Format: CD
Catalogue #: LPN018C

Individuals order from the catalogue

Record stores/book stores order from Winnipeg's G-7 Welcoming Committee Records.

Norman's first solo CD is a powerful, anti-war, anti-empire, sonic attack, against the forces of ignorance, greed and xenophobia. It was cited by The Montreal Gazette as one of the top 10 local English releases of 2004 alongside The Arcade Fire's first album. Compelling, topical and provocative, it's a beat rich onslaught of hypnotic bass, percussive and driving, looped violins, viola and cello, and incendiary spoken word. It's also a stinging and passionate critique of America's quest for empire, the web of deceit excusing it, and an upbeat call to action.

Duck Work mixes catchy, danceable anarcho-house, seductive drum and bass, jazzy ska, punked up celtic rock, electronica and experimental, melodic ambient music. Gets heads and brains nodding and fists pumping the air. It offers a powerful musical anti-dote to current official lies, and suggests the need and the potential for everyday individual and popular rebellion against empire, for anarchy.

Norman co-produced the 61 minute Duck Work with three of Montreal's top, beat-happy, sound engineers from the city's dance, hip hop and rap scenes. Guaranteed to inspire thinkers, rebels, music lovers and djs.

"Duck Work is a damning indictment of America and the terrorism it has waged upon the world, but it also offers hopeful stories. It all comes together under Nawrocki's magic touch, becoming a celebratory romp - an Eastern European punk-rock dance party. Insightful, inciting, informative and joyful, Duck Work makes radical politics fun."
- Uptown, Winnipeg
THEME SHOW ABOUT THE LIFE OF MOHAMED HARKAT
"Montrealer Nawrocki was invited to perform by Ottawa's Justice for Mohamed Harkat Committee, learned background info from Harkat's wife Sophie, and converted it into "stories about him, about his life, who he is, where he's come from," Nawrocki explained over the phone.
"I'll be using my sampled, prepared violin. I have a prepared viola as well. I use beats and other loops. There's an Arabic theme to some of the music and I'm just very excited about coming, about performing, and sharing my perspective on his case, on his life with other people."
Nawrocki's political interest in issues of security and justice goes back 20 years, when he was part of a group that opposed the creation of the Canadian Security Intelligence Service - the spy agency that provided the secret info on Harkat to Citizenship and Immigration Canada, which led to his arrest in December 2002.
"Twenty years ago we were talking about this and trying to fight CSIS," said Nawrocki, who was convinced Canadians spying on Canadians was wrong. "Of course we lost that battle and here we are today facing the consequences." - The HOUR, Ottawa

>> return to bands page

>> return to top