NORMAN USING HIS PENCIL NON-STOP
Among the published highlights: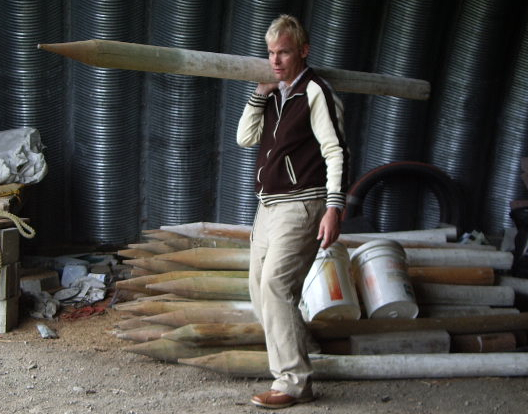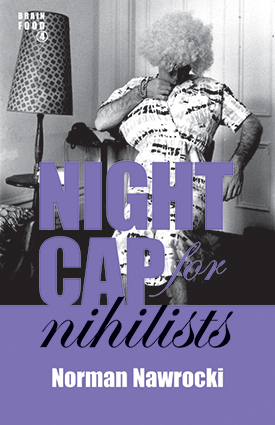 • The fourth book in his exciting and ever-expanding 'Brain Food' trilogy (Breakfast for Anarchists, 2007, Lunch for Insurgents, 2009, and Dinner for Dissidents, 2009) of rad poetry and bad attitude is NIGHTCAP for NIHILISTS (Les Pages Noires, Montreal, 2012). Includes original artwork by Philippe Caron, Mathieu Chartrand, Fly, David Lester, Keenan Poloncsak, Matta and Emily Rose Michaud.

Distributed in the USA & Europe by AK Distribution and in Canada by Les Pages Noires Distribution.
ISBN 978-2-9805763-4-8
80 pages; illustrated; 8.5" x 5.5"; $12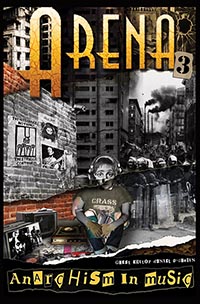 • A chapter in the new volume #3 of ARENA (Christie Books, Hastings, England, 2012) devoted to Anarchism in Music. Norman wrote, 'Rhythm Activism to Bakunin's Bum: Reflections of an unrepetant anarchist violinist.' Other chapters by Penny Rimbaud, Boff Whalley, David Rovics, etc.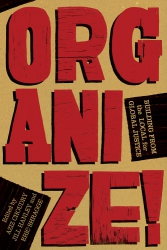 • A chapter on how to use music for community organizing in a new book called Organize!: Building from the Local for Global Justice (PM Press, Oakland, 2012), edited by Aziz Choudry, Jill Hanley & Eric Shragge.
• A short story, 'It's the Bomb' in the world's first anthology (in English or French) of anarchist short stories, SUBVERSIONS, published by the Anarchist Writers Bloc (AWB, Montreal, 2011), and another story, 'The Ghost Train,' in the second anthology of the series, SUBVERSIONS vol II (AWB, Montreal, 2012).

Volume II includes an English preface by the award-winning American author of 17 novels, Marge Piercy (The NY Times Bestseller, Gone to Soldiers, Woman on the Edge of Time, Vida, Braided Lives, etc.), and a French preface by the celebrated Belgian Situationist writer and philosopher (and contemporary of Guy Debord), Raoul Vaneigem (The Revolution of Everyday Life, The Movement of the Free Spirit, Book of Pleasures, etc.).

Other English authors in the trilingual SUBVERSIONS vol II include Peter Gelderloos (South End Press), Jamie Heckert (Routledge), Sandra Jeppesen (Gutter Press), Frank Miller (AK Press) and more.

SUBVERSIONS Vol I and Vol II are distributed in the USA & Europe by AK Press and in Canada by the Anarchist Writers Bloc.

Vol I: ISBN 978-2-9805763-2-4 ; 120 pages; 7"x 5.5"; $12
Vol II: ISBN 978-2-9805763-3-1; 260 pages; 7"x 5.5"; $15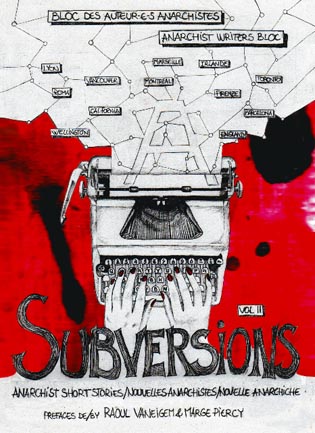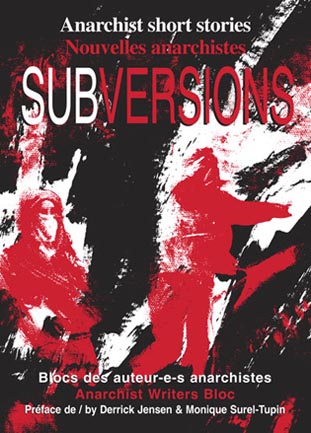 • A solo, short anti-war theatre piece re-printed in a Cabaret Anthology zine, Ex-pressions (2010-2011), published by the Anarchist Writers Bloc (Montreal, 2012), featuring extracts from a few of the bi-monthly local AWB cabarets. The cabarets draw a range of artists and writers, musicians, poets, actors, mimes, even opera singers, to share their work with an appreciative public.

• The preface for a 764 page mega-tome about community activist art in Quebec from Engrenage Noir/Levier called Affirming Collaboration, edited by Devora Neumark, Johanne Chagnon & Louise Lachapelle (co-published by LUX Editeur Montreal, 2011).

• The preface for a new collection of poetry by Montreal writer Benoit Tremblay called Un écorché vif comme tant d'autres (Sabotart, Montreal, 2011)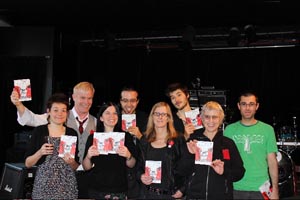 Anarchist Writers Bloc book launch, Quebec City, Bar L'Agitée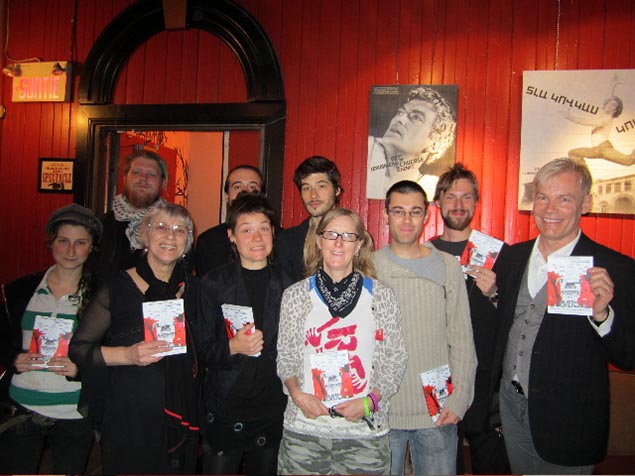 Anarchist Writers Bloc book launch, Montreal, Casa del Popolo