« Delicious... astonishing.... audacious »
- Le Devoir, Montréal

'Very cool'
-Jurgen Goethe, Disk Drive, CBC Radio

'Wedding music for anarchists..
while they fiddle, sampled loops & electric guitars burn'
- The Globe & Mail

'Arm-raising, foot-stomping stuff'
-The Toronto Star

'Think East European folk music with a moody, surreal twistS¹puts klezmer music into orbit'
- The Hamilton Spectator

'Extremely expressive masterful composition'
- View, Hamilton

'Klezmer for the 21st centuryS¹
driving and eerie'
-The Suburban, Montréal

'The playing is beautiful and passionate'
- HOUR, Montreal

'Lovely & very soulful playing. Had me thinking of my favorite Kronos stuff'
- Jowi Taylor, Global Village, CBC Radio,Toronto

'Sprinkled with Jewish & gypsy inflections, dramatic & intense, blending multiple layers of sound, this invigorating orchestral brew transports you to a world of mysterious ecstasy.'
- Alain Brunet, La Presse

'An East European mix of sorrowful and joyful celebrationS¹on the first track they sound like Paganini, a marachi orchestra and even Asian string pluckers; later like Godspeed! or even hasidic, New York, new wave.'
- VOIR, Montreal

' An improbable but happy mix of klezmer, gypsy & experimental musicS¹original and captivating.'
- l'Express d'Outremont, Montréal

'Freshly treated Serb & Romanian folkdance tunes, spiced with klezmer & original compositions fling the listener into a freefall of musical ecstasyS¹some tracks invite uninhibited, gypsy-style dancingS¹some would be perfect for a film soundtrack, with enough breadth & emotional landscape in them to accompany an epic.'
- Canadian Jewish News

'A voyage through an expansive country of emotions, where the virtuosity of the musicians and the quality of the music takes one ever higher. Stimulating.'
- FUGUES, Montréal

'A CD to recommend to everyone - from adolescents to nostalgic grandparents'
- ICI, Montréal

'Fabulous!'
- HOMERUN, CBC Radio, Montreal

'A warm accomplished debut'
-Montreal Mirror

'Brilliant'
- Music Director, CKUT Radio, Montreal

'Superb!'
-Montreal International Jazz Festival Programmer, Dan Behrman

Who is DaZoque!?
Take two plugged-in violins, add beats, more strings, shake and play.
Urban Montréal meets a Slavic mountain village under a full moon.


DaZoque! is an exciting Montréal East European influenced ensemble that blends strings and beats into original compositions. The band features two violins ( Minda Bernstein & Norman Nawrocki), cello, bass, guitar, percussion and live electronics.

THE MUSIC

The group creates original, cutting-edge instrumental compositions with an East European flavour, blending acoustic and electric strings with percussive rhythms and electronically manipulated sounds to enhance the melodic subtexts. Their sound ranges from neo-classical post-rock to experimental edgy folk. They take traditional Klezmer tunes or Ukrainian dances and stretch them into driving, beat-rich, urban soundscapes. They also create rich, atmospheric orchestrations and incorporate healthy amounts of improvisation.


THE SHOWS

On stage the band draws on their broad theatrical backgrounds to create moods ranging from quiet poetic musical meditations to high-energy, humorous and engaging pieces that pull the audience to their feet. For example, DaZoque! has wowed the Montreal International Festival of Jazz with a sold-out performance in the Museum of Contemporary Art as part of the 'Contemporary Jazz' series, and captivated new fans outdoors at the Guelph Jazz Festival. The band entertains in settings as diverse as intimate clubs, or riotous weddings and celebrations. They also work with anti-poverty groups and choirs to produce socially aware folk musicials about the lives of people in the community.




THE HISTORY

DaZoque! was co-founded in 1991 by violinists Minda Bernstein (from Montréal's Bagg Street Klezmer Band) and Norman Nawrocki (of Rhythm Activism, and Bakunin's Bum). They collaborated for 10 years as a 'voltage violin' duo in Montreal's independent underground scene. Other musicians joined for a studio recording project which resulted in their critically acclaimed self-titled CD. The current DaZoque! ensemble draws inspiration from a strong classical & klezmer sensibility, traditional East European folk music, Western Canadian Ukrainian folk music, as well as experimental improv based on Québec folk music.

The sexy sextet DaZoque! and it's exciting new line up - the irrepressible Sylvain Auclair on bass; guitar and mandolin wizard Rodrigo Rubilar; and hot percussionist Philip Hornsey - recently played Toronto's annual Ukrainain Festival at the Harbourfront Centre. (http://www.ukrainianfestival.com)
On stage, they were joined by a special guest, Canada's reigning master tsymbaly player himself,
Brian Cherwick, from the hotter-than-hot, 'they kick sausage' Edmonton band, 'The Kubasonics.'
DaZoque! cooked up an irresistibly infectious, traditional Western Canadian Ukrainian dance music mix (Hopaks, Kolomeykas, Arkan, Waltzes, Polkas) infused with it's own neo-klezmer, post-rock, edgy jazz treatment, and original, new Ukrainian Canadian pieces, like 'My Baba Makes Perogies,' and 'Trouble in the Kitchen,' and left the big TO with new fans strapped to the roof of their van. Watch for a new album for 2008.




REVIEW FROM THE BEAT MAGAZINE, Los Angeles, June/July 2003 >> download

DaZoque! is a short phrase that doesn't exist without an explanation point. Nor can you find it in any language book. But when raising your glass in a toast to the buffalo at some remote Eastern European mountain village tavern, it will be immediately understood by all. What, you say, there are no buffaloes in that part of the world. Well, like the emblematic buffalo on the cover of the CD, this is a recording that simultaneously links old and new musical worlds in a single hoofbeat.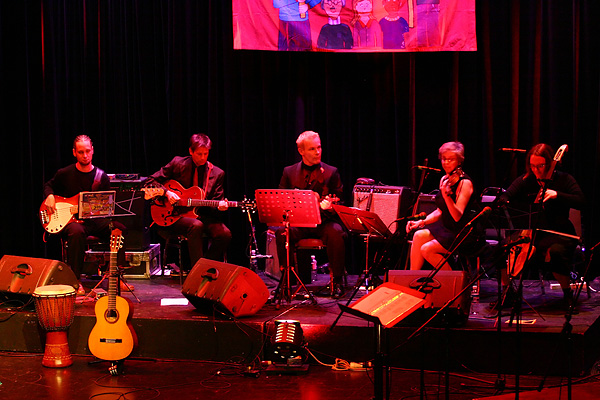 DaZoque!

at Toronto's Ukrainian Festival at Harbourfront Centre,

with special guest cymbaly master, Brian Cherwick, from Edmonton's Kubasonics.